Self-portrait from the laundromat in Fairfax: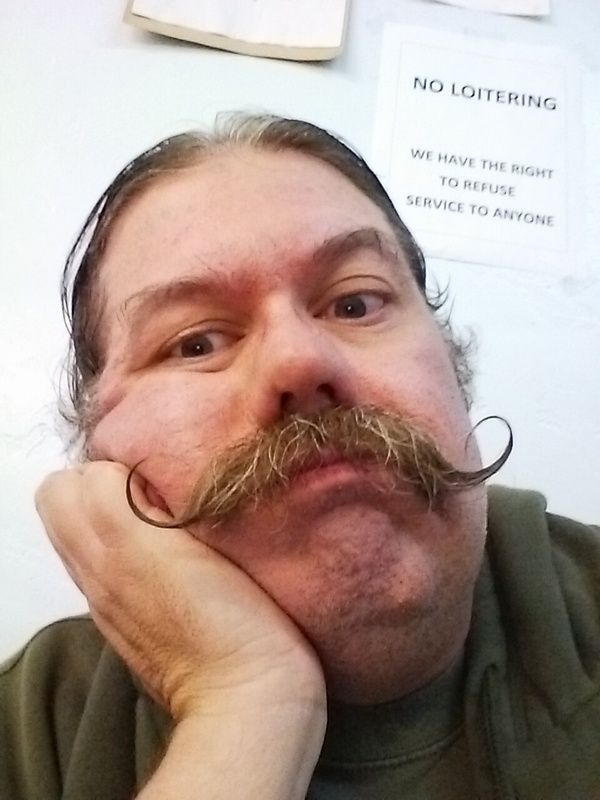 albadger
and I watched more episodes of
Stranger Things
last week. I really like the way this series is progressing. They did a very good job with this, and I can't wait to see the rest of the series, which should be tomorrow. In other good TV-related news, there's a new episode of
Steven Universe
coming up this week!
I was inspired to write some more
Confirmed Bachelors
dialogue this week. I've also put out feelers to an artistically talented net-buddy of mine for concept/poster art for promotional purposes. And a very nice lady complimented one of the promotional videos I posted last year, and suggested I audition for local theater. It's something to consider.
Still waiting on that job interview. Hopefully my sending out applications will result in one. In the meantime, I have another job offer waiting for me, so it's likely I'll be sending out another in the near future (like: tomorrow or Wednesday). Also: Wednesday is First Aid training up at Olompali, so I'll be attending that. I don't know if I mentioned it, but East Bay Regional Parks wanted someone with First Aid training, so this is definitely a good career move for me.
I'm finally on my own phone line. Carol and I had been on a family plan since 2012, and just this week I went down to T-Mobile to finalize the process. Another step in my continuing march towards complete independence...
I flaked out on
The Weekly Puck
last week. Super-sorry about that. I'll present you with two this week, I swear!
***sigh*** Did anything else happen this week?