The Sleeping Party
by Bernard Gilliam (1885)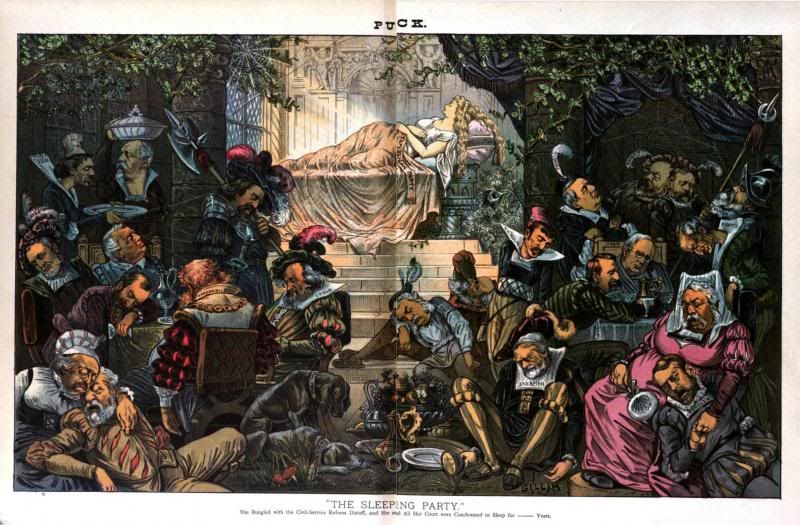 She Bungled With the Civil Service Reform Distaff and She and All Her Court Were Condemned to Sleep for ____ Years.
The Library of Congress sez:
Illustration shows a woman labeled "Republican Party" asleep in the background, with members of her court, some dressed as women, also asleep, in the foreground; depicted are Whitlaw [sic] Reid, Murat Halstead, Russell Sage, John Roach, Jay Gould, Benjamin F. Butler, James G. Blaine, William H. Vanderbilt, John Logan, Cyrus W. Field, two dogs labeled "Phila. Press" and "Chicago Tribune", Chester A. Arthur, Rutherford B. Hayes, William W. Phelps, John Sherman, Simon Cameron, George F. Hoar, Alonzo B. Cornell, Stephen W. Dorsey, Thomas J. Brady, William M. Evarts, George M. Robeson, William E. Chandler, and Joseph W. Keifer.
Lazy Curator™ sez:
They misspelled Whitelaw Reid's name, misidentified Donald Cameron and missed out Jay Gould, to Vanderbilt's left. [does the "smarter than the LOC" dance, a distant cousin of the Church Lady's "Superior" dance]
Another gorgeous bit of artwork from Bernard Gilliam. Circa 1884-85, the man was completely on fire. Absolutely stunning! By all means, click through to the full-size and appreciate the detail. To think that this magazine once cost a dime an issue!