Self-portrait taken during the annual New Year's General Shafter pilgrimage at the National Cemetery. I didn't exactly miss it last year, but it was terribly delayed on account of construction. So I'm glad to have made it in timely fashion this year:
Rather disappointed by my performance at the Half Moon Bay interview. I don't think I did very well. I get the feeling I'm perceived as this clever B.S. artist who's book smart but doesn't have a lot of practical experience. Oh well, it was a nice trip out there, even if it was gray and drizzly.
I have another interview at the Franchise Tax Board (again!) in Sacramento next week. I was supposed to go down to Lake Perris for an interview
this
Wednesday, but that is so totally not happening for myriad reasons. We'll see if Henry Cowell calls me back.
I did have the most remarkable thing happen to me this week. I went to the El Cerrito Recycling Center and wandered around their Exchange Zone. This used to be the Book Exchange, but people began dropping off more than just books (records, videotapes, toys, etc.). Anyway, I was just standing there, minding my own business, when someone who I insist must have been at least part ninja dropped something down right at my feet and ran off.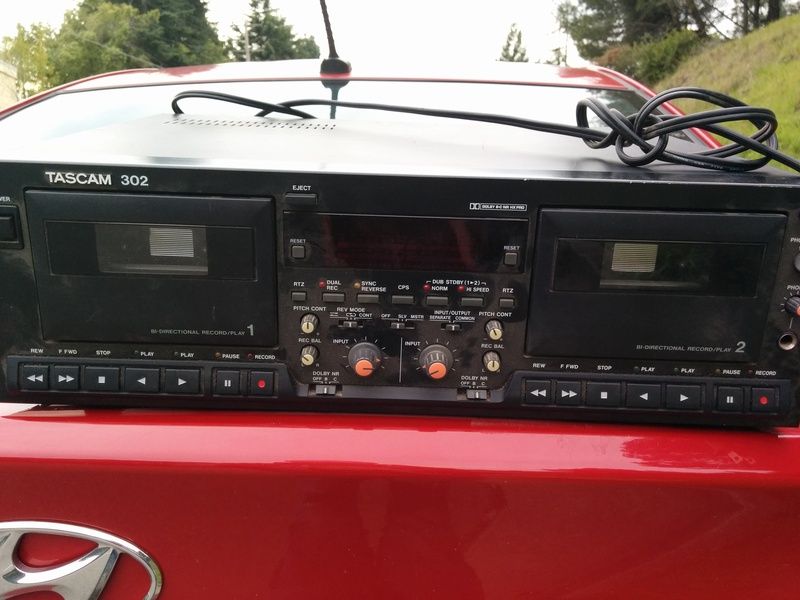 That, my friends, is a Tascam 302 dual cassette deck. Now, I've been combing the thrift stores for a replacement for my ailing Pioneer CT-W300 for a while now, but I absolutely
never
expected to find something so high-end
for free
! I tested it at the test plug using a L'oiseau Lyre Bach cassette someone had left, and all the functions seemed to check out (though I was unable to check out the sound, lacking headphones). In the meantime, a guy was hovering over me, forced to wipe the drool from his chin.
Took it home and tested it out, this time with headphones. And yes, it really works! The sacrificial cassette was
You're All I Need
, a 1988 EMI Manhattan release from former Labelle vocalist Sarah Dash. In fact, the title song is a duet with her ex-groupmate Patti LaBelle. Rather appropriately, I found
this
cassette as a freebie a couple of years back at the exact same location!