Self-portrait from the Mel's Diner on Geary in S.F.: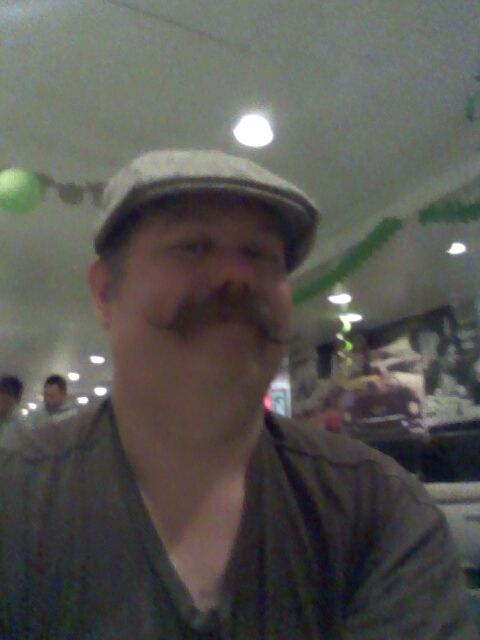 Incidentally, the cap is not mine. It belongs to

scottasf
, who lent it to me for dinner. We were dining (along with

albadger
) after a production of the original play of
Oh Dad, Poor Dad, Momma's Hung You in the Closet and I'm Feeling So Sad
. It's a really messed-up, yet captivating, play. I'd previously only seen the film with Rosalind Russell, Robert Morse, Hugh Jeffries and Barbara Harris, and it (rather predictably) completely misses the point of the original text. Really, it strikes me as an unfilmable play, especially considering fully one-fourth of it consists of an extended monologue.
I also tried on Scott's straw boater, but it didn't go with the clothes I was wearing, so it stayed in the car.
Other events this week:

2ndbanana
's birthday party. A new dining experience: fondue! I copied
Fol-de-Rol
(weird Sid & Marty Krofft variety special from 1972 with a sort of Renaissance Faire theme) and the aforementioned
Goin' Coconuts
for him. Lots of fun was had. It's a shame that, with my current schedule, I tend to only see him once a year these days.

albadger
and I got together additionally to watch a couple of films. One is my new favourite thing ever, and will be discussed in an adjoining post. The other was
Dünyayı kurtaran adam
, popularly-known as
Turkish Star Wars
(on account of stealing tons of footage, and some of its music, from the original
Star Wars
). In it, a couple of astronauts crash-land on a desert planet run by a tyrant who resembles Rasputin with an empty box of Quaker Oats on his head. They battle his army of carpet monsters using cardboard swords, trampolines and clumsy amateur martial arts. That's pretty much it. Additional music on loan from
Raiders of the Lost Ark
,
Flash Gordon
and
The Black Hole
.
The bad news: the Toshiba laptop I bought back in September completely bricked. The good news: it's still under the manufacturer's warranty, so it's currently at the Toshiba service center. Hopefully I won't need to wait
too
long; someone else told me that his has been "waiting for parts" for three weeks. In the meantime, I have the old Lappytron 2000 (MSI), which I've renamed the Craptop, on account of the unwieldy bulk, the broken shift key, the piddly-sized hard drive, the noisy fan, the fact that it gives off lots of heat, the power-cord connection is wonky and sensitive and the battery is circling the drain and won't retain a charge. It was also filthy from months of neglect. Like I said, I can't wait for the Toshiba to be back in my possession. I only hope there was no data loss.
I guess things are looking up, though. I found two four-leaf clovers while out hiking today. That has to count for something, right?