Self-portrait from Sacramento's Tupelo Coffeehouse: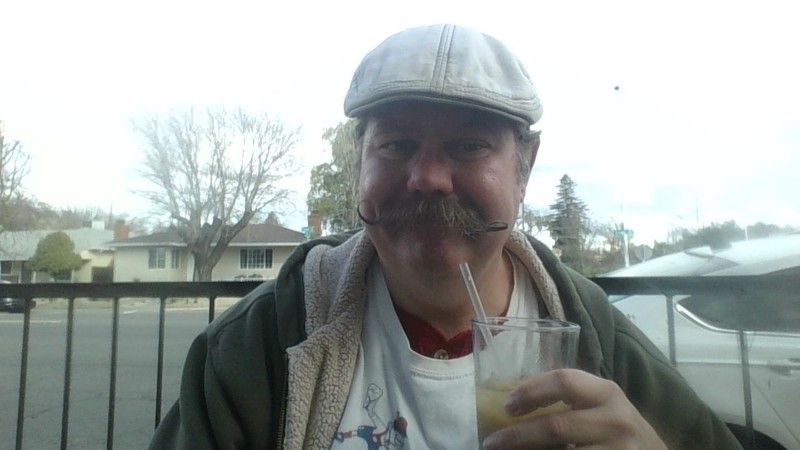 Since me moving to the Sacramento area looks to be a distinct future possibility, I'm still on the lookout for that indie coffeehouse I'll fall in love with. And...
Old Soul @ 40 Acres
is still the winner for me, despite being in a rather sketchy neighborhood. Tupelo is in a much nicer area, but I'm not sold on it despite the Yelp raves. The coffee's fine, but the "plenty of seating and outlets" I found rather wanting. Of course, showing up on "rush hour" on Saturday at a place right next to the College probably didn't help, but the seating is a little more "communal" than I generally like. I guess it's a generational thing, younger people don't seem to mind sitting at tables next to a bunch of strangers.
Also: I was in town for a reason other than the job search; it was

2ndbanana
's [observed] birthday, so we had a big pizza and sundae party at his house. A delightful bear-y attendance; an extremely cute guy gave me a hug and complimented me on how "warm" I was. I thanked him, then began to worry if I was running a fever! Obviously not, considering I feel just fine!
Something new happened to me on Sunday: it was the first time I got hailed on when it was raining! Fortunately, I had the foresight to bring my hooded jacket, which did a fine job of protecting me from hailstones. I'm lucky to be in California, where we don't get the proverbial "golf-ball-sized hail." Tends to be about the size of rice grains whenever we get it. In any case, I lived. It was over at the Hillside Nature Area, and I concluded my hike with a visit to the El Cerrito Recycling Center's Exchange Zone. Picked up some USB cables (mini/micro); not as glamourous as a
Tascam dual tape deck
, but better than nothing at all.