Self-portrait from the shores of San Pablo Reservoir: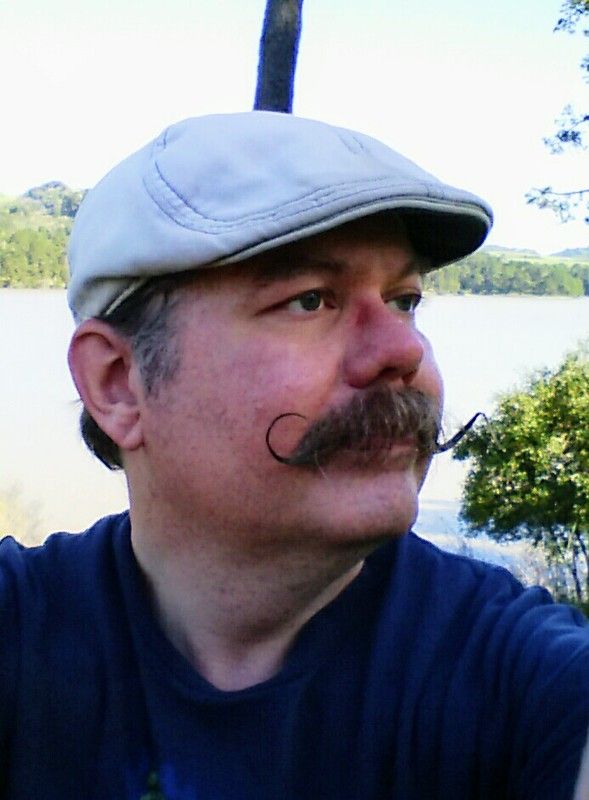 Well, you could have knocked me over with a feather! I thought I'd seen the last of my job interviews from this last batch of State testing, but I received a phone call from McClellan Park up in (you guessed it!) Sacramento only this morning. So next (not this) Thursday, I have yet another interview. Wish me luck.
Exploiting the break in the weather to get some hiking done. Not only the reservoir, though that was my first destination. The main access road to the parking area at Kennedy Grove was closed off from flooding. The waters had receded when I'd got there, but it was still closed off and had to use the alternate entrance over on Hillside Dr. You could definitely tell where the flooding had occurred, right below the spillway. If the fresh water marks weren't enough of a tip-off, the dead fish in the road (sticklebacks?) sure were.
I've mentioned Kaleidoscope Coffee and their peanut butter sandwiches in previous posts, but (on account of the weather) I hadn't used a trip out there as a pretext to hike in the Point Richmond area before. That changed this weekend. I went out to Miller-Knox before my jaunt to the café. Photographed Richmond's poorly-publicized "badlands" (funny, even the park pamphlet doesn't mention them). Hopefully they show up better in this photo than the last time I tried to take a snapshot of them, with the crappy Kodak digital camera: